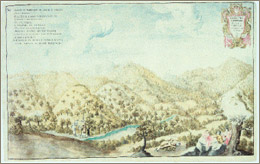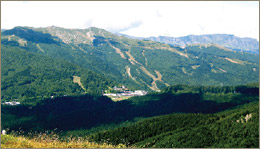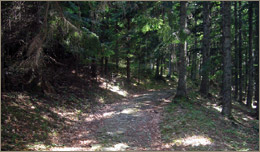 Up till a few centuries ago there was a dense wood of fir and beech trees, which covered the mountainsides of Abetone, so much so that the area was called "Boscolungo", the long wood. Towards the end of the 1700s after the construction of the road of Ximenes, a small settlement was created including an inn, a post office, border control and a few houses. Today Abetone (whose name seems to be derived from a large fallen fir near the mountain pass) is a famous tourist centre particularly well known for its winter sports activities and is considered one of the most important skiing locations in the Apennines of Tuscany and Emilia Romagna.

In the pass of Abetone the two pyramids can be easliy seen which were built on the Tuscan - Modena border in 1777 in memory of the road of Ximenes and the road of Giardini, works of art created by the Grand Duke of Tuscany Leopold I and the Duke of Modena Francesco III. On each pyramid you can see the coats of arms and the Latin inscriptions dedicated to the sovereignties. From the pyramids we leave the road SS no. 12 of Abetone and Brennero and we take the road to the right which climbs slightly in the direction of Uccelliera, after about 50 meters, we head off to the right again entering the forest of Boscolungo.


We advise you to park your car in the open area at the bottom of the road.
After the barrier of the Forest Rangers Corps the route follows apparently flat ground of the rough track (loose stones) that crosses the forest of conifers in Abetone reaching, after about two kilometers, a stone fountain - the destination of our journey.
Along the walk, in the northeast, it is possible to see the summit of Libro Aperto and part of the Apennines of Pistoia. To head back, from the fountain, you take the path to the left which climbs slightly to the left reaching the crest (path CAI no. 0-0)- The track runs completely along the ridge parallel to the forest track visible below in the direction of Tuscany. A short distance along the route you can find the cylindrical stone markers which define the boundary between the lands of the Grand Duke of Tuscany and the Dukedom of Modena. On these you can see the date of 1792 engraved showing their age and their progressive numbering and the direction of the border. A short but steep stretch takes you back the dirt track.